New Literature Online Now Live!
Literature Online is now released on its brand new platform. With a fresh new look, and a more powerful search engine, the new Literature Online provides users with a faster, more efficient search experience while they continue to benefit from the bespoke features and functionality that make Literature Online the premier tool for serious literary research.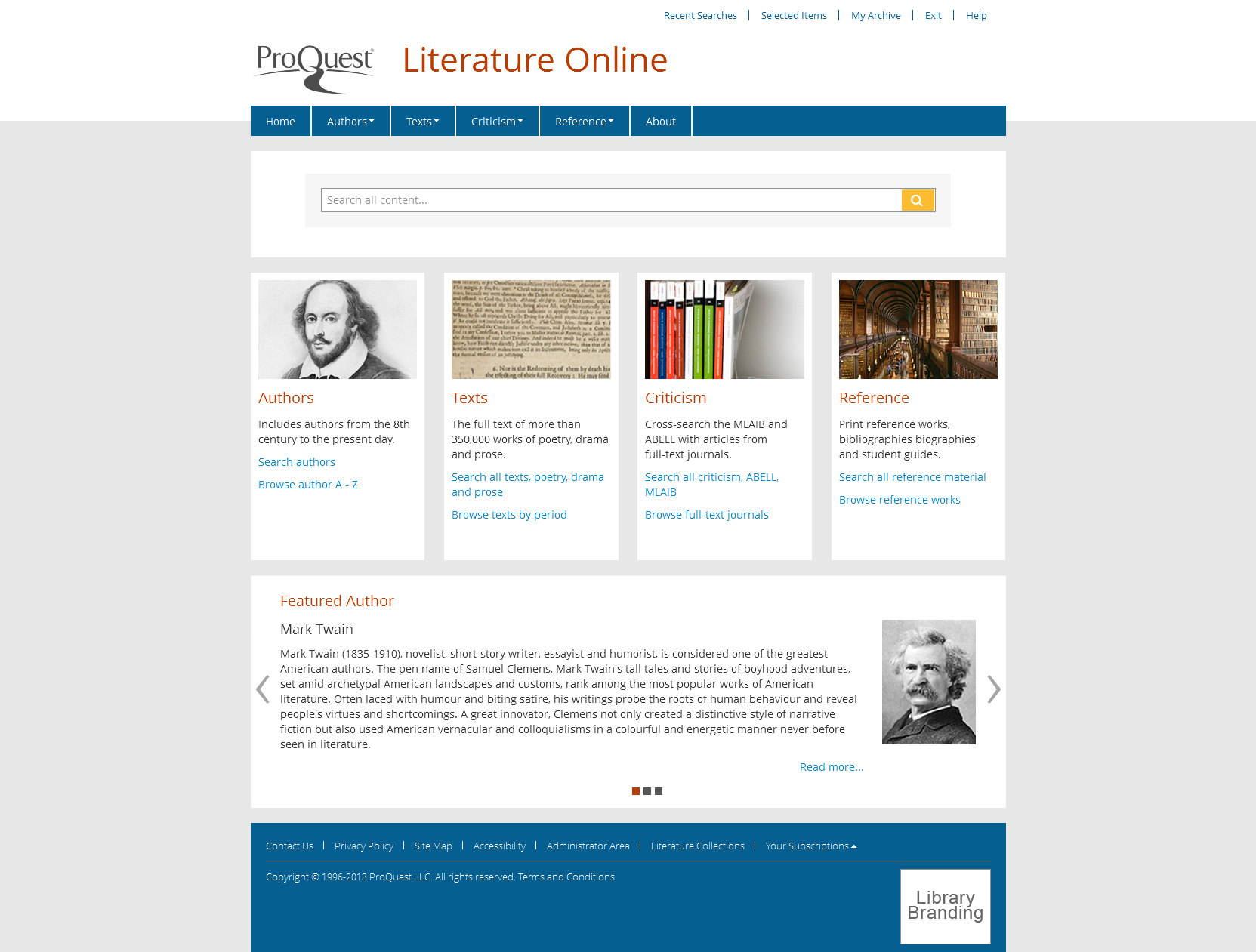 Home page (PC version)
Click here for more screen captures from the new Literature Online, including mobile.
Start previewing new Literature Online now
Literature Online subscribers can now access the new interface at literature.proquest.com
We encourage your institution to start your preview now so you can get familiar with new Literature Online and start to appreciate the enhanced research experience that the new Literature Online will bring to your users.
Dual access period
You will continue to have access to Literature Online on its legacy platform through the first half of 2014 so you can complete any work required on your end before we turn off the legacy platform. We will alert you prior to the dual access period end date and the legacy platform switch off.
What will I need to do to when I decide to switch to the new interface?
Literature Online has a new URL. All of your institution's customization options – such as links to JSTOR collections, the MLA IB or EEBO – will be carried through to the new Literature Online automatically. Customers who wish to transition to the new interface before the legacy platform is switched off will have to actively migrate to the new URL. Once the legacy Literature Online is switched off, the old URL will auto-redirect to the new one. Customers will not need to update durable URLs and/or MARC records.
Preparing researchers for the transition
Literature Online users will now see messages on the current interface advising them of the forthcoming change.
My Archive accounts will not be migrated to the new interface. If your researchers are using a My Archive account, please advise them to extract their data manually to the repository of their choosing and to create a new My Archive account in the new Literature Online.
Training and end-user support available soon
A LibGuide and training webinars are now available. Click the training links on the side of this page for details. To request dedicated on-site or online training for your institution, please email our training team at training@proquest.com.
A new brochure, poster, and postcards publicizing the new Literature Online interface to patrons are also available by clicking on the links on the right side of this page. Email newlion@proquest.com if you would like printed posters, brochures, and/or postcards for your library.
Stay in touch with Literature Online — the next generation!
Bookmark this page for the latest news and support information. We will continue to send regular emails to keep subscribers up to date as we move toward sunset of the legacy platform in the first half of 2014.