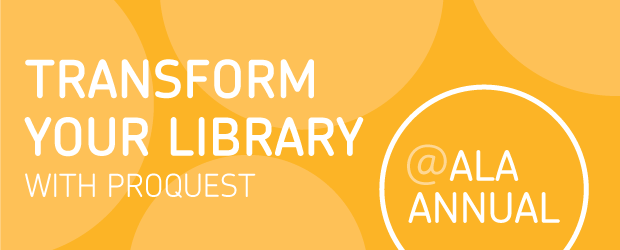 ProQuest Day – "Transforming Libraries, Transforming Research" at ALA Annual
Join us for lunch and thought-provoking educational sessions during ALA Annual!
What resources do you need to transform your library? How can we help enhance the research experience? Now is your chance to learn from exclusive thought leaders, click on the "register" button to see more details for each session.
ProQuest Day Session Schedule
Can't make one of these sessions? Be sure to visit us at Booth #703 in the Las Vegas Convention Center, June 27-30.
| Date | Time | Session Title | Venue | Description | |
| --- | --- | --- | --- | --- | --- |
| Friday, June 27 | 11:30 am - 1:00 pm | Keynote by Roger Schonfeld - Library Transformations: The Views of Academic Library Leaders | Las Vegas Convention Center | What vision do America's academic library leaders have for their institutions? How would they allocate their budgets if more funds were made available to them? What impediments do they face in their efforts to drive change? In this presentation, Roger Schonfeld will address these questions with a snapshot of American academic library leadership from the Ithaka S+R Library Survey 2013, to lead in a robust discussion of the transformations facing American academic libraries. Please note: Registration is required to attend. | |
| Friday, June 27 | 1:00 pm - 2:00 pm | Streaming Video in Academic Libraries – Survey Results and Copyright Information by deg farrelly and Jane Hutchison | Las Vegas Hotel | Jane Hutchison and deg farrelly will present their findings based on a yearlong research project about streaming video in academic libraries. Come see the survey results, especially pertinent if you work with video in your library. | |
| Friday, June 27 | 1:00 pm - 2:00 pm | Tales of Transformation – Learn from Real Experiences of Fellow Librarians | Las Vegas Convention Center | As collections become predominantly digital, the needs for managing and providing access to a library's holdings have changed. As a result, the management practices and workflows librarians employ must also evolve. ProQuest believes it's time for systems to transform by adopting a new model in library automation. Join Jane Burke, Michelle D'Couto and three Intota development partners as they discuss new functionality, as well as key findings from the implementation of this Library Services Platform. | |
| Friday, June 27 | 2:00 pm - 3:00 pm | Discovery in the Research Ecosystem | Las Vegas Convention Center | In a shifting academic landscape, research can suffer when it is viewed as a commodity and is not accompanied by a sense of curiosity and exploration. Anna-Sophia Zingarelli-Sweet, respected HASTAC Scholar from the University of Pittsburgh, will discuss motivations and strategies for reinvigorating a thoughtful, joyful research process. Following Anna-Sophia, ProQuest product managers will highlight ways to further engage users, improve research, and streamline workflows through new enhancements to Summon, Flow, and 360 Link. | |
| Friday, June 27 | 2:00 pm - 3:00 pm | Transforming Research by Teaching Core Information Literacy Principles | Las Vegas Hotel | Join us for a lively discussion of the problems students' face when doing scholarly research and share ideas/best practices on how information literacy resources can help. | |
| Friday, June 27 | 3:00 pm - 5:00 pm | SummonCamp | Las Vegas Hotel | Join us for the annual customer-driven user group at ALA Annual! This meeting is for current Summon customers only and promises to be informative and engaging for both new and long-time users of the Summon service. You will receive an update on recent enhancements and upcoming developments and then have the opportunity to participate in group discussions on selected topics. You can share experiences, discuss ideas and connect with colleagues about discovery and the impact the Summon service is having at your library. Please note: Registration is restricted to current Summon customers. | |
| Friday, June 27 | 3:30 pm - 4:30 pm | The Road to Open Access - An Aggregator Journey | Las Vegas Convention Center | Trace the growth and explosion of open access, from the inception of scholarly publishing to the "Age of Information Overload!" As an aggregator, ProQuest has a unique perspective on publishers and institutions for addressing the future of research and open access, while balancing the competing pressures in the research process for efficiency and discovery thoroughness. Learn how open access aligns to the changing nature of user needs and the growing number of highly relevant sources critical to a researcher's success. Come and share your thoughts, ideas and the challenges you each face addressing the growing movement toward Open Access and emerging needs of researchers. | |
| Friday, June 27 | 3:30 pm - 4:30 pm | User Experience and Design in the Library: Insights from Experts | Las Vegas Convention Center | User centered design is focused on a deep understanding of user behavior to guide the design of systems, interfaces, services, and spaces. Join us to hear librarian, thought leader and expert, Aaron Schmidt, talk about the importance of user centered design throughout the library and some practical ways you can better study your users and implement great user-centered solutions in your library. You'll also hear from Diana Peterson about the user-centered, empathy-driven approach ProQuest is taking with the patron user experience in the design and development of the new ebook platform. | |
| Friday, June 27 | 4:30 pm - 5:30 pm | Diving into Ebook Usage: ALA Update | Las Vegas Convention Center | Join Michael Levine-Clark, Associate Dean for Scholarly Communication and Collection Services, University of Denver and Kari Paulson, General Manager ebrary and EBL, to hear the latest update on a long-term large-scale study of ebook usage on a global scale. This study demonstrates trends across over 10,000 libraries of all types and sizes. With four-years of data from ebrary and EBL, covering well over a half a million titles, trends show broad patterns of usage and establish benchmarks that prove useful for libraries and consortia in collection development planning. | |